As Halloween approaches, scary stories fill the air. It's the time of year when villains and monsters take the stage. In the publishing industry, anti heroes have begun to step up and tell their stories.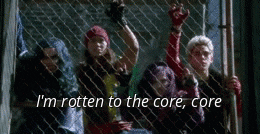 What entices readers to these books? Why do they want to read about main characters who kill and claw their way to the top? The books which tell the story from the villains point of view, don't paint a callous, shallow individual, but a complex character. Many have been dealt a bad hand of cards or taken a wrong step in their path. The authors make us connect to these villains and want to root for them.
Here's a list of Middle Grade and Young Adult books who have anti heroes as their protagonist.
The Descendants
Disney created a franchise out of the Descendants. From MG novels to movies to a cartoon spinoff, they took four villains (or children of villains) and spun a story which has captured a huge audience.
Six of Crows
Leigh Bardugo has a way with creating anti heroes we can't help but love. I once heard someone refer to the villain in her other series, saying how she didn't know if she should kiss or kill him. Six of Crows takes six outcasts–thieves and liars–and sets them on a crazy impossible heist.
Forest of a Thousand Lanterns
Julia Dao's debut is breathtakingly gorgeous. FOREST OF A THOUSAND LANTERNS takes the tale of Snow White a turns it on its head, focusing on the evil queen's rise to power in an Asian-inspired fantasy.
The Young Elites
Marie Lu has created a darkness within her characters that is so enticing. Adelina is the survivor of the blood fever, a Young Elite. While most died from the illness, she gained powers. But there is also a blackness within her heart.
And I Darken
Following a ruthless princess as she tries to keep her and her brother alive while plotting her vengeance, AND I DARKEN tests the bonds of loyalty and love.
Who is your favorite anti hero? Which villain would you love to read about? Share below!