When people ask me what I write, I instantly reply Young Adult. Then they give me this strange look, force a smile and say "Oh, like the next Harry Potter!" And I try to tell them that Harry Potter is technically mid-grade and that no one can even touch the magic those books created. Then they ask if I want to write easy books, why don't I just try writing a picture book. At this point, I feel like asking them: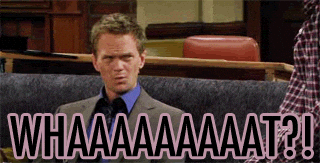 Believe me, picture books are hard work. I have so much respect and awe for my friends who are picture book and children's book writers. Every time I have to critique one, I never know what to say because they're just so cute and imaginative.
I started writing when I was in third grade. As I got older, so did my stories. So by the time I was in middle school and high school, I was working on young adult novels. The stories I read (not the ones assigned to me, but the ones I picked up at the library) shaped my writing. Still, when I went to college, I decided that I was too old to be writing young  adult. I was no longer a child and that I needed to prove myself.
So, I began writing adult stories. Mind you, none of them were brilliant, but I thought they were good. Then as I was creating a character's backstory, I realized there was so much potential to write her starting as a teenager. That's when I knew that young adult will always be my bread and butter. There are many reasons why.
First, the Young Adult market is huge right now, from the Dystopian such as The Hunger Games and Divergent to Contemporary like John Green's books. Of course, I don't suggest you focus on dystopian or paranormal novels, considering the market is saturated with them. Still, Young Adult is huge. That's because it can reach a wide variety of readers.
The Young Adult age range is supposed to be 12-18. However, it does not mean those older than 18 can't pick up the books. However, I doubt younger readers would be able to handle some of the topics. Not to say some might not try.
But in truth, that's not why I write YA. From about fifth grade on, I had very few friends. I grew up in a small town and graduated high school with the same 100 kids I started kindergarten with. I was an awkward kid, too tall for my own good (I'm still a bit clumsy). No one wanted to hang out with me.
So, I picked up books. I read to get lost in a new world, one in which I could be the hero. I found books with protagonists like me and fell in love. When I wasn't reading, I wrote. A friend of mine and I created four characters as kids, and I kept writing their story. I wrote to escape, to lose myself, and ultimately to share my story.
Now when I'm writing, I think about the girl I used to be, the one who lived on those pages, and I know I'm not the only one out there. I think of the teenagers who go to the library because they weren't invited along to egg the cars of the boys' basketball team (again, I lived in a small town). These teenagers just want to forget about the real world for a while.
My goal as a writer isn't to be a huge sensation. It isn't to find the easiest genre to write and publish in. My goal is to create a story that will make a lonely teenager smile, laugh, and maybe even curse at me, but smile again.
If you're on the fence about whether or not you want to try your hand at writing young adult, think about a book the "teenage you" needed to read. Maybe you'll find the magic in YA and enjoy writing it as much as I do.